Where Jo Goes tells us Oxford is the perfect place to go with children as rain or shine, there are more Things to do in Oxford with Kids than you could ever manage in a day or two and something for all tastes. Like Harry Potter? Oxford has that covered. Prefer Alice in Wonderland? Yes, got that too. Dinosaurs? Check.
Add in the fact that it is a small city which makes walking around easy, the iconic dreaming spires of Oxford University, the river and a piece of history around every corner, tonnes of things to do with kids and you have yourselves a great day or weekend break.
Parking in Oxford is expensive and there isn't much of it, so grab one of several park and ride options that ring the city and make catching the bus in part of your day out.
AD | I have been or could be if you click on a link in this post compensated via a cash payment, gift or something else of value for writing this post. See our full disclosure policy and privacy policy for more details.
Here are our favourite things to do in Oxford with kids.  See which take your fancy and combine a few of them to make an itinerary for a day out. A note of caution – Oxford has a lot of truly fantastic museums but to avoid overload I suggest picking one or two. We have a family rule that we do no more than one museum in a day. The good thing about the Oxford museums is that they are in the main free so an alternative is to visit a couple and just see the highlights. You can always go back another time!
CHRISTCHURCH COLLEGE – Things to do in Oxford with Kids
One of Oxford's most famous colleges and a must for Harry Potter fans as the Great Hall here was used as inspiration for the movies and   some of the filming took place in parts of the College. It's also the college where Lewis Carroll lived when he wrote Alice in Wonderland, inspired by the daughter of the Dean of the college, and some of the windows in the Great Hall tell the story of Alice. The college is open to the public but queues can be long and the college will be closed at certain times so check website for details. Christchurch Meadow is a  parkland stretching down to the River Cherwell and a good place to have a picnic in summer before going boating.  As you wander round Oxford you'll see various colleges with areas open to the public and it's well worth popping in to one or two.
PUNTING ON THE RIVER – Things to do in Oxford with Kids
From Magdalen Bridge boat house, or other boat houses along the river, you can hire a rowing boat, a pedalo or go punting. If you are punting  you can do it yourselves or take a chauffeured punt. We prefer the chauffeured punt as punting has a high fall-in-the-water rate and I don't fancy an unexpected dip to fish out one of the kids! Our 'chauffeur' took us on a lovely route around the river for half an hour and pointed out some of the landmarks along the way. He also let the children have a turn on the punt. The riverside is also a pleasant place to go for a walk. Messing about on boats has to be popular with all kids and it's very scenic on the riverbank. Allow one hour.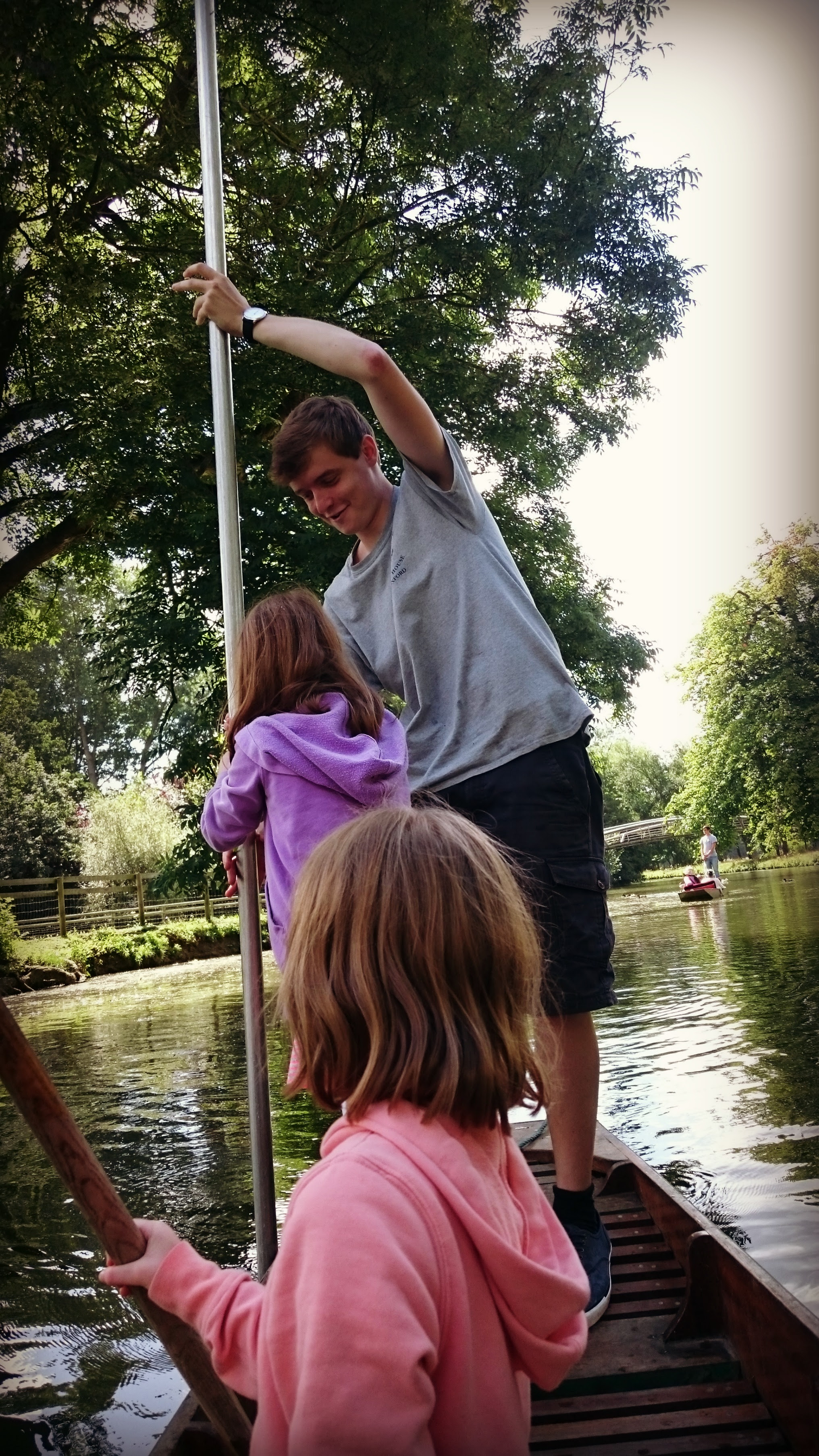 OXFORD UNIVERSITY MUSEUM OF NATURAL HISTORY – Things to do in Oxford with Kids
My children actually prefer this to the London Natural History Museum #shock. It's smaller, more manageable and has a whole host of dinosaurs, a whale's jaw bone, one of the few specimens of real dodo bones in the world, lots of family friendly activities and plenty of things to find, do, touch and join in with.  A real family friendly museum. If you fancy further museum time at the end you can pop into the Pitt Rivers Museum next door to see its huge collection of curiosities from around the world, including the shrunken heads which may appeal to children who like the gross-out factor.  Drawback – no buggy parking nor cloakroom so you do have to carry your things around with you. The museum is free, allow 1-2 hours depending on how dinosaur crazy your kids are and what activities are running that day.
BODLEIAN LIBRARY – Things to do in Oxford with Kids
You can tour the library but if you are going with kids you may be better off doing the children's trail that takes you around the outside of the Bodleian and other nearby buildings with things to look for. You can buy these tours from the ticket office on site for a small charge. We found it took about half an hour and the kids really enjoyed it. With your ticket you can also pop into the Divinity Hall of the Bodleian, which is the hospital in the Harry Potter films. Allow half an hour for the outdoor trail and a peak in Divinity Hall.
MUSEUM OF THE HISTORY OF SCIENCE – Things to do in Oxford with Kids
Next door to the Bodleian Library is the Musuem of the History of Science,  the world's oldest surviving purpose built museum. It has free entry and another good kids trail. Highlights here include a blackboard with Einstein's writing on!  Surely nobody could walk past and not pop in for a nose at that. Other treasures include navigational tools dating back to the Elizabethan era and all manner of curios which could pass as the famous alethiometer in the Philip Pullman Northern Lights book trilogy, which of course begins in Oxford. If your kids are fans of these books, this is a good stop off.  It's a museum with objects in cases rather than things you can touch. Allow half an hour to an hour depending on how engrossed your kids are. More one for junior school and upwards age, less interesting for younger ones.
ASHMOLEAN MUSEUM – Things to do in Oxford with Kids
I confess, we have only scratched the surface at the Ashmolean, one of the world's most famous museums. Oxford is heavy on museums and Ashmolean is the jewel in the crown housing many international  treasures. This is one museum you can return to again and again and not see it all. Family friendly events, an Egyptian collection and various kids trails will keep any family busy for an afternoon. The Top 10 kids trail takes visitors around the museum to see the Top 10 highlights, a good option with kids.
BALLIOL COLLEGE – Things to do in Oxford with Kids
We enjoyed a short, self guided tour of Balliol and its gardens. It gives a sense of life as a student at Oxford with boating team triumphs chalked up on the walls and another Harry Potter style dining room.
OXFORD MARKET  – Things to do in Oxford with Kids
Now my daughters are nine they like spending a bit of their pocket money and the covered market in Oxford with its artisan shops is a nice place to have a browse and pick up a cookie or some sweets.
CARFAX TOWER – Things to do in Oxford with Kids
Right in the town centre, Carfax Tower gives great views, across the spires of Oxford, of some of the city's key landmarks. There is a small fee to climb to the top. If you are passing, pop in. Allow 30 mins.
MUSEUM OF OXFORD  – Things to do in Oxford with Kids
A tiny little free  museum in the Town Hall, city centre. It is literally 2 rooms but nonetheless it gives a compelling story of the history of Oxford and my kids loved the various hats to put on, each depicting a different element of what has contributed to the town's fame. Allow 20 mins.
PLACES TO EAT IN OXFORD
Places we have enjoyed eating in Oxford with kids:
This is in Oxford's Congregation House, which dates back to 1320 (tell the kids they are eating somewhere 700 years old – that should impress them). You will find it in Radcliffe Square at the bottom of St Mary's church.  You can eat in the vaults themselves or in the pretty garden watching the Oxford world go by with a spectacular view of the Radcliffe Camera. Food is organic, locally grown and totally scrumptious – great soups, salads and rarebits. Two minutes away is the famous Bridge of Sighs so make sure you pop to see that afterwards.
George and Danver -Ice creams and bagels.
They have 3 shops in Oxford. One is opposite Christchurch college and meadow so you can grab some bagels and ice cream and head for the grass to enjoy them. There is seating in the shop too but it can get busy. The bagels are delicious and they make their own ice cream too. My daughter got hit on the head by a flying bagel in the shop (don't ask) and still talks about this now whenever Oxford is mentioned. Forget the museums, the flying bagel is what she remembers.
A pub with a studenty, unassuming vibe, they make great pizzas and they have board games to boot.
Rainy day dinner – board games and pizza at the White Rabbit, Oxford
Out of town on the River Cherwell, you can punt from here as they have a boathouse, eat in the restaurant and they do afternoon tea and picnics as well. We went for dinner with the children and although it is a more grown up environment the children are well catered for with a lovely menu and the food is excellent. Well worth a trip.
The Randolph Hotel – The Morse Bar
The Randolph Hotel is the most famous of the Oxford hotels. One of its best known bars is the Morse Bar, named after the famous Oxford fictional detective Inspector Morse. He was often found drinking here in the TV series. It's a quick hop across the road from the Ashmolean and a great place to have a cocktail or a mocktail if you fancy a splash out. My children like the hot chocolate that comes in a teapot and to sit by the fire.
CHEAP THINGS TO DO in Oxford with Kids
If you are doing Oxford on a budget then many of the attractions are free, although we do always make a donation.
Picnic in Christchurch Meadow, visit the Ashmolean, the Museum of Science History, the Natural History Museum and have a riverside walk and you've a full day out for the cost of the park and ride.
REASONS TO GO BACK to Oxford with Kids
We've not yet been to the Botanic Gardens , the Story Museum or the Castle  so they are all on our list for our next visit. I like a reason to return!
Thanks to Where Jo Goes for this excellent Guest Post!
Why not PIN this
Karen Beddow founded Mini Travellers in 2014 while doing what she loves most...going on holiday!
Mini Travellers is for parents looking for holiday ideas, destination reviews, days out and things to do with the kids. We also have family travel tips, activity ideas and all other things family holiday related. Take a look at some of our latest reviews for holidays and day trips in the UK.