This review of pumpkin picking has been submitted by Emma who writes a great blog over at Farmer's Wife and Mummy. Emma can also be found tweeting @EmmaLander2 and on facebook at www.facebook.com/farmerswifeandmummy 
I am still uneasy with Halloween. My post last year about not being comfortable about the begging aspect of trick or treat explains why but there are activities out there that don't involve any trick or treating and we took part in one this weekend.
AD | I have been or could be if you click on a link in this post compensated via a cash payment, gift or something else of value for writing this post. See our full disclosure policy and privacy policy for more details.
I wrote in the summer about or local pick-your-own farm, Kenyon Hall Farm. They are famous in our local area for strawberry picking as well as other types of fruit or veg and, come October, it is all about the pumpkins.
They have called it a pumpkin festival and, it being half term for many people this week, it really is a great place to go.
When you arrive, you have to walk through a spooky poly tunnel. I thought Boo might be a bit reluctant to go through but she didn't bat an eyelid (pardon the pun).

Once through, we were met with rows and rows of different sized pumpkins to choose from.
We chose quite a small one as they were so heavy and I was on my own and it only cost £2 which I thought was a bargain. The bigger the pumpkin, the higher the price but none were overly expensive.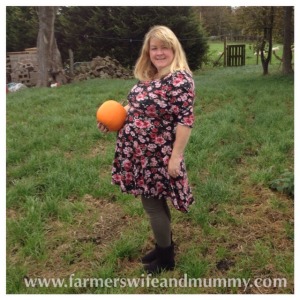 We then headed to the shop to look at the other vegetables, squashes and seasonal loveliness on offer and ended up buying some very exciting purple carrots to go with our Sunday dinner.
We would have stayed longer but we had gone pumpkin picking straight from church and hadn't had breakfast. There is a cafe on site which looks like it serves delicious food but it is so popular that there were no tables and I wasn't sure they'd be that impressed with a Boo meltdown on a Sunday morning.
After breakfast, we got down to the serious task of carving our little pumpkin. We went for a simple design and we drew around a star cookie cutter and the. Cut it out.

I had seen some amazing photos of amazing pumpkins on the internet but it is a lot harder than it looks.
My nod to the more advanced pumpkin carving techniques was to use an old screw to pierce little holes around the stars.
It's not a work of art but we had fun doing it.
The pumpkin festival runs all this week and at 11am each day there is a spooky story time. On that, there are toy tractors available to play with in the pumpkin tent and carving tools so you can carve your pumpin there and avoid the mess at home.
There are also experts on hand with ideas and tips for optimum pumpkin carving and technique.
The other thing I like about Kenyon Hall Farm is they look ahead.
When we went strawberry picking, we were given vouchers for money off the maze of maize later in the year and at the pumpkin festival we were given a voucher off real Christmas trees.
Do check out their website. They have activities planned for all school holidays.
This is not a sponsored post. We just like Kenyon Hall Farm.
Karen Beddow founded Mini Travellers in 2014 while doing what she loves most...going on holiday!
Mini Travellers is for parents looking for holiday ideas, destination reviews, days out and things to do with the kids. We also have family travel tips, activity ideas and all other things family holiday related. Take a look at some of our latest reviews for holidays and day trips in the UK.